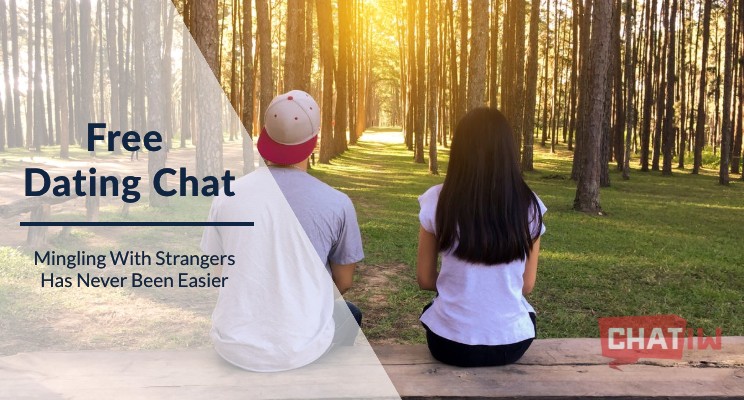 Free Dating Chat: Mingling With Strangers Has Never Been Easier
---
Posted on December 7, 2018
Let's face it..
There is nothing more exciting than meeting a partner in a free dating chat. Nowadays, dating chats are more than just popular. Even though they have been here since the early 90s and over the years, the features of dating chats nowadays are radically improved.
That said, now is easier than ever to meet strangers, date them online and have a long-distance relationship. In today's article, we are talking more about the advantages of chats and their massive use nowadays.
A Free Dating Chat Can Easily Lead To A New Relationship
First and foremost, it is safe to say that a free dating chat is easy to use. Today's platforms are very convenient. If you are looking for the best dating chat for free and a way to meet strangers online for free, you have landed on the right page.
In an array of free online dating chats, ChatIW lets you meet thousands of strangers and chat with them for free. Open 24 hours a day and 7 days a week, it is the perfect place to communicate and get freaky.
Whether you are male or female, our free dating chat lets you meet strangers from all around the globe. You can see their age, gender and nickname, as well as put yours information so that you know what you are in for when dating online strangers.
Easy To Use And Exciting: The ChatIW Free Dating Chat Is Perfect For Everyone
Our free dating chat features many different rooms where you can meet strangers, say 'hi' and get to know more about them. It will also help you communicate with interesting people in a simple way.
Easy to use and increasingly addictive, you can log in to our free strangers dating chat from literally any device and speak to soulmates from all around the world. At ChatIW, we pride ourselves on delivering a unique chat service that you can use for free.
All you need to start is a nickname of your choice, and a form with your age and location that you need to fulfill before you start chatting to strangers - online and for free!
And the best part?
ChatIW is a popular free dating chat with thousands of active users - each of which is looking for a nice chat or a decent online affair. We also pride on our option called 'Video Chat' which lets you not only chat but also see and talk to many online users while chatting with them for free.
Are You Single? Now Is The Time To Escape The Loneliness And Start Chatting!
Talking to strangers from all around the world on our free dating chat will let you meet different people, get to know their personalities and maybe find a lifelong partner by your side!
Before you start dating on our free chat, you should obviously see some of the best pick-up lines and conversation starters - all in order to experience the best results. After all, you should always be in a position to know how to flirt and communicate in a way that is not invasive or out of order.
The entire idea of our free dating chat is to let you have some fun, meet people from all around the globe and talk with anyone who has the same interests like you - to chat online in a FREE and fun way.
How Does Our Adult FREE Dating Chat Work?
In times when there are a lot of free dating chats, ChatIW is different in many ways. It is one of the best dating chats out there with features that let you not only chat to strangers - but also meet them and greet them in many unique ways.
For instance, ChatIW supports emojis and has a very clear interface. The moment you press the 'Enter' key, your message is being sent. You can then wait for the response of your chatting partner and be able to view when they are typing a message.
Also, you can chat with multiple strangers and have as many conversations as possible. The members of our free dating chat website ChatIW can open a private chat room and carry out their romance-oriented discussions without anyone knowing about it!
Most importantly, everything is private and kept only to yourself and your partner. Our free dating chat is encrypted and all of the information you send is private. Similar to any romantic, sexual or flirty endeavors, ChatIW lets you find partners from all around the world and virtually date them!
Now Is The Time To Log In To Our FREE Dating Chat And Start Meeting Strangers!
If you enjoy adult dating..
If you enjoy free online chats..
And if you want to meet strangers from around the world for free..
ChatIW is definitely the website you need to visit. Our free dating chat lets you chat online and find partners for your taste and age. Remember, it is important to use common sense when enjoying our adult dating chat - so make sure to be polite when talking to the strangers out there!
So, what are you waiting for?
Now is the right time to start chatting - and get freaky online - meeting strangers from all around the world and enjoying in your fun romantic endeavors.
All you need is to fill out the details, create your profile with a nickname, age and location (in less than a minute) - and start clicking on the users you want to chat with (located in the left panel of the chat).
Good luck - and to many fun and enjoyable dating chats!
---
Keywords : free dating, dating chat, free dating chat