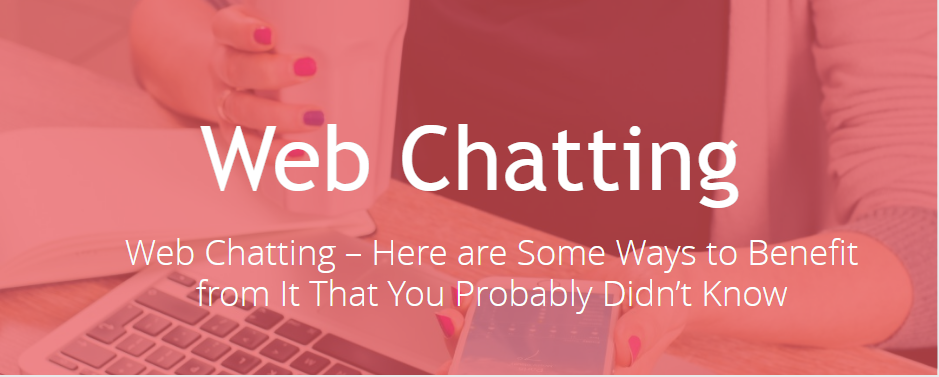 Web Chatting – Here are Some Ways to Benefit from It That You Probably Didn't Know
---
Posted on October 13, 2016
Web Chatting is a phenomenon that has been largely spread since everyone started using Internet. While most people tend to be a bit skeptic whether to join a chat or not, we are going to give you some reasons why web chatting can be a great thing.
Web Chatting Helps You Socialize
Socializing means talking to other people; whether itÂ's in person or virtually, that doesnÂ't matter. If youÂ're looking to be more open and free while talking to others, a
web chat
is the perfect place to start. It will not only serve as a place to practice, but it can really work out and you can make some new friends.
Make Friends Overseas
If youÂ're looking to make some new friends overseas, there is no better way than through a web chat. This is an amazing opportunity as you can learn about that personÂ's country, culture and language. While weÂ're at it hereÂ's reason number three:
Learn a New Language
If you went to a foreign language course, your teacher most probably mentioned how important is to practice that language with a native speaker. While itÂ's very hard to do this in person, via Internet is something super easy. Just log into a web chat and find the person you want. It will help you more than you think and you can make a new friend!
Find an answer about everything
Nowadays, web chats are separated in different
categories
.
For example
if youÂ're suffering from a disease and want to communicate with another person who has been through the same thing, find a medical web chat and just like that you can connect with other people at your interest. This method can be applied and it works for student groups, different workers and almost everything!
Find a New Girlfriend/Boyfriend
If youÂ're tired of all your past relationships, you can try dating via Internet. Web chats are proven to be a great way to meet new people and get some dates! It may actually surprise you how exciting this can be and who knows, maybe youÂ'll find the love of your life! On the other hand if it doesnÂ't work, youÂ'll have a cool experience to share with your friends.
Kill Some Time
Not all people are busy all day. Sometimes we have so much free time that we canÂ't actually think of anything to do while at it. In that case, web chatting can be very handy, again. Many people can say itÂ's a waste of time, but we gave you plenty of reasons above why itÂ's not. So maybe next time when youÂ're sitting, bored and not having anything to do, go to some
web chat
s. You might as well have a great time! We hope to have convinced any of you who were thinking whether to join a web chat or not. It is a great way to socialize and create new connections!
---
Keywords : free chat,web chatting